EYENLIP CALAMANSI VITA PEELING GEL 120mL
About This Product:
Calamansi Vita Peeling Gel instantly brightens and renews skin radiance and texture, helps reduce lines and wrinkles. It diminishes pore size, pigmentation, freckles, and sun damage. Helps treat blackheads, pimples, excess sebum. Suitable for all skin types.
Features and Benefits:
Intensive non drying formula combines four flower extracts (Ceruleanthus cherry flower extract, alba waterlily flower extract, matricaria extract, waxy extract) to deliver superior multi action exfoliation. Hydrates and smoothes skin without irritation.
How To Apply:
Apply to a thoroughly cleansed and dry face and neck. Avoid the eye and lip areas. Start massaging skin, exfoliate using circular movements, working from the center of the face towards the contour. When waist is peeled, rinse with warm water. Use daily as a #3 step of your skincare routine to achieve a radiant, dewy skin. Follow by suitable toner.
EYENLIP CALAMANSI WHITENING PACK 200mL
About This Product:
Rich in vitamins calamandin orange fruit extract and calamansi's fragrance to give you refreshing mood. Contains 30X more vitamin C than lemon, provides vitamins, whitens and tightens skin. Contains a high level of antioxidants . Calamansi Whitening Pack helps strengthen skin's natural rejuvenation potential to guard against all signs of aging.
Features and Benefits:
Contains 7 plant extracts. Calamansi Whitening Pack maximizes skin's ability to retain moisture for plump, soft skin. Calamansi Whitening Pack can be applied on the face or body without stickiness.
How To Apply:
Apply after cleansing and treatment as a night-time or daytime moisturizer. Can be applied on face and body. Avoid contact with eyes.
GREEN TEA EYENLIP MOISTURE ESSENCE MASK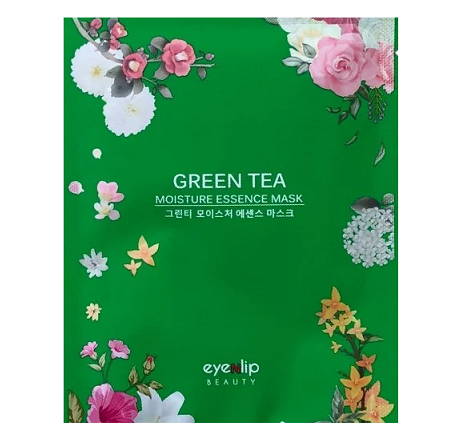 About This Product:
Contains moisture-rich green tea extract to moisturize dry skin, relieve skin thirst and provide clear skin with plenty of moisture. Tannins contained in green tea have a calming effect on skin and 20 times more antioxidant effect than vitamin C, soothing sensitive skin and helping to improve spots and freckles.
How To Apply:
Clean face thoroughly. Open the pouch, take out the mask, remove the white film, and gently apply on face. Wear it for at least 20 minutes. Take the mask of and do not rinse your face. Use once or twice a week.
EYENLIP BLACK SNAIL ALL IN ONE CREAM 100ml
About This Product:
Provides a powerful moisturizing and skin barrier effect. Leaves skin feeling clean and healthy without stickiness.
Features and Benefits:
Black snail slime extracts firms the skin, aqua shea butter ingredient creates moisture barrier on the skin. Adenosine improves skin elasticity and niacinamide brightens skin. Snail mucus contains mucin, alatosin, glycolic acid, and collagen. Mucin heals the skin by itself, makes skin beautiful and healthy. Alatoin soothes skin, shrinks pores. Glycolic acid moisturizes skin, prevents acne. Collagen improves skin elasticity. Black Snail All In One Cream contains natural raw materials from 5 different flowers: tulip, violet, daisy, iris and bitter orange blossom. This combination assists in neutralizing skin damaging oxidative stress to promote a brighter complexion. Antioxidants are known to combat harmful free radicals to help slow glycation, the process responsible for wrinkles, loss of elasticity and the formation of dark spots.
How To Apply:
Use morning and evening as the last step of your skincare routine to achieve radiant, dewy skin. Smooth gently into skin.