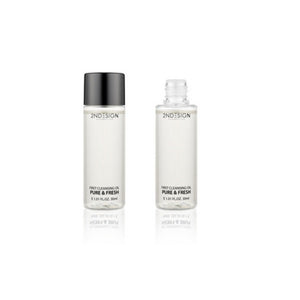 Description
About this Product: Cleansing oil with strong cleansing power. All contents EWG all green grade. Dermatologist hypoallergenic completed. Suitable for all skin types.
Key Ingredients:
Sunflower oil - Helps rejuvenation and moisturization
Jojoba seed oil - has a chemical structure similar to the sebum which makes it easy to dissolve sebums to improve blackhead issues
Rosehip oil - Enriched vitamin B, C, E, and unsaturated fatty acids rejuvenate exhausted skin and prevents skin pigmentation keeping your skin bright and healthy.
Macadamia seed oil - Prevents evaporation and prevents dryness
Bergamont oil - Helps to improve skin immune system and inhibits the activity of harmful substances improving the overall skin condition
How to Apply:
Use and appropriate ammount on your dry palm.
Gently apply the oil over the face for 30 seconds
Add water for emulsification and massafe for 30 seconds
Wash with lukewarm water
Ingredients: Helianthus Annuus (Sunflower) Seed Oil, Simmondsia Chinensis (Jojoba) Seed Oil, Manademia Ternifolia Seed Oil, Rosa Canina Fruit Oil, Citrus Aurantuim Bergamia (Bergamot) Fruit Oil.
More
We usually receive the most current product versions directly from Korea. While we make every effort to update images and provide accurate and up-to-date information, please be aware that manufacturers may occasionally change ingredients without prior notice. If you are seeking a specific product version, we kindly request that you reach out to us for confirmation. Please note that we are not responsible if ingredients on the box differ from the description in the ingredients section.