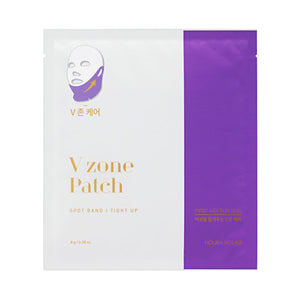 Description
About This Product:
Suitable for all skin types. This v zone patch is easy to use, restores firmness of the skin. It helps to prevent the appearance of a second chin, forcing skin cells to produce natural elastin and collagen. The gentle texture of the mask perfectly nourishes and moisturizes the skin, leaving a light floral fragrance on it.
Features and Benefits:
Active ingredients, peptide, niacinamide, adenosine and volufiline improve the chin line and wrinkles along the neck.
How To Apply:
Cleanse skin thoroughly and apply toner. Remove the protective film on the patch and apply the patch to the neck area. Gently stretch the center of the mask to fit along facial contour and hang on your ears. Closely stick the patch to the neck area. Leave and 30 minutes and remove the patch.
Ingredients:
Water/Aqua, Glycerin, Dipropylene Glycol, Niacinamide, Agar, Sodium Polyacrylate, Polyacrylic Acid, Cetyl Ethylhexanoate, Hydrogenated Polyisobutene, Anemarrhena Asphodeloides Root Extract, Butylene Glycol, Capsicum Frutescens Fruit Extract, Hydrolyzed Collagen, Acetyl Hexapeptide-8, Caprylyl Glycol, Xanthan Gum, Cellulose Gum, PolySorbate 80, Disodium EDTA, Tartaric Acid, Titanium Dioxide (CI 77891), Adenosine, Aluminum Glycinate, Tocopherol, Phenoxyethanol, Fragrance/Perfume
Disclaimers
We usually receive the most current product versions directly from Korea. While we make every effort to update images and provide accurate and up-to-date information, please be aware that manufacturers may occasionally change ingredients without prior notice. If you are seeking a specific product version, we kindly request that you reach out to us for confirmation. Please note that we are unable to offer refunds in cases where the ingredients differ from the description in the ingredients section. Your understanding is greatly appreciated.
Visible Effect
I really liked the mask. With a visible effect, it tightens the skin in the chin zone. With frequent use, I think the result will be wonderful. I will take more and more than once. Thank you!