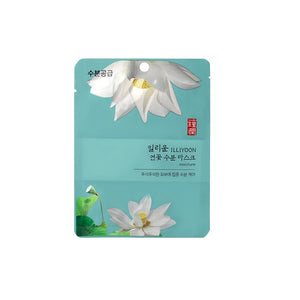 Description
How to Apply
Ingredients
More
Description
This 3-layered sheet mask is infused with lotus extract that is full of nutritional and medicinal value; contains a high dose of antioxidants it also has amazing anti-inflammatory properties. Promoting cell renewal, whilst treating skin conditions such as eczema, rosacea and acne, helps to balance out oil and sebum levels, recommended for blemish-prone skin.
Free from any synthetic dyes, parabens, sulphates and other nasties it's safe for sensitive skin types.
How to Apply
After facial wash, apply toner to soothe the skin.
Open the pouch and remove the lower and upper parts of the mask, placing squarely on the face.
Remove mask after approx. 10-20 minutes and lightly tap remaining contents into the skin to aid absorption.
Ingredients
Purified Water, Glycerin, Butylene Glycol, Glycereth-26, Panthenol, Peg-75, 1,2-Hexanediol, Carbomer, Arginine, Peg-60 Hydrogenated Castor Oil, Glyceryl Caprylate, Centella Asiatica Extract, Ethyl Nuclearcylglycerin, Peony Root Extract, Chamomile Flower Extract, Disodium Edta, Fragrance, Phenoxyethanol, Ginseng Extract, Propanediol, Lotus Extract (1.714 Ppm), Beta-Glucan, Wangdae Sap.
More
We usually receive the most current product versions directly from Korea. While we make every effort to update images and provide accurate and up-to-date information, please be aware that manufacturers may occasionally change ingredients without prior notice. If you are seeking a specific product version, we kindly request that you reach out to us for confirmation. Please note that we are not responsible if ingredients on the box differ from the description in the ingredients section.