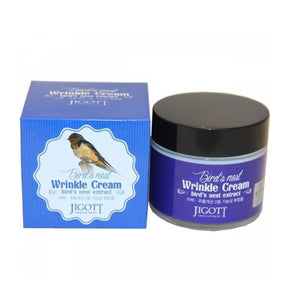 Description
About this Product: This moisturizer is formulated Bird's Nest, Niacinamide and
Adenosine that support the firming, hydrating proteins for your skin. Bird's Nest contains protein effective to the skin to help keep skin moist, soft and resilient. Bird's Nest is reputed to maintain youthfulness and enhance the complexion. Modern studies have shown that Bird's Nest is rich in epidermal growth factor (EGF). This substance is responsible for skin and tissue repair.
How to Apply: At the last step of your skincare routine, apply a proper amount onto the face and neck. 
Ingredients: Water, Mineral Oil, Glycerin, Niacinamide, Propylene Glycol, Polysorbate 60, Glyceryl Stearate SE, Stearic Acid, Cetearyl Alcohol, Glyceryl Stearate, Glyceryl Stearate/PEG-100 Stearate, Dimethicone, Sorbitan Sesquioleate, Triethanolamine, Carbomer, Phenoxyethanol, Methylparaben, Fragrance, Xanthan Gum, Allantoin, Adenosine, Swiftlet Nest Extract, Aloe Barbadensis Leaf Extract, Camellia Sinensis Leaf Extract
Disclaimers
We usually receive the most current product versions directly from Korea. While we make every effort to update images and provide accurate and up-to-date information, please be aware that manufacturers may occasionally change ingredients without prior notice. If you are seeking a specific product version, we kindly request that you reach out to us for confirmation. Please note that we are unable to offer refunds in cases where the ingredients differ from the description in the ingredients section. Your understanding is greatly appreciated.