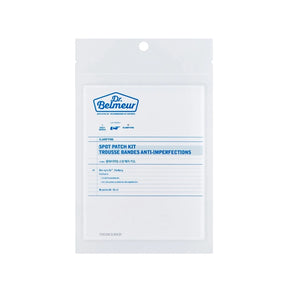 Description
***Discontinued***
Use THE FACE SHOP Dr.Belmeur Clarifying Spot Soothing Patches 24pcs as a replacement 
A two-way spot soothing and protecting patch kit that guards the skin against external contamination and helps protect wounded areas.
Features and Benefits: These patches are specially formulated to cure pimples and acne. There are two types of patches: one is to cure pimples (Dr. Belmeur Clarifying Spot Plaster Band) and the other is to cover that area (Dr. Belmeur Clarifying Spot Hydrocolloid Band). You have to use both to see the results and to get rid of the pimples.  It helps to pull out the germs and discharge from the pimples. It helps to decrease the size of the same and dries out the pimple. It is an overnight treatment for pimples. It takes time to work on the pimples that are still under the skin. It doesn't leave a dark spot after the pimple is gone.

The kit includes:
Dr. Belmeur Clarifying Spot Plaster Band 40 patches (10mm x 40)
About This Product: A plaster band containing tea tree leaf oil, soothes sensitive skin and protects skin against external contamination (helps soothe problematic areas before acne has fully surfaced)
Features and Benefits: Contains Salicylic Acid and Willow Herb for skin calming.
Used for acne that is forming but has not surfaced yet.
How To Apply: After washing and towel-drying the face, apply the patch on problem areas. (Do not use lotion or cream). Remove after 8-12 hours. Avoid using repetitively on the same spot.
Ingredients: Acrylates Copolymer, Vinyl Caprolactam/VP/Dimethylaminoethyl Methacrylatecopolymer, Epilobium Angustifolium Flower/Leaf/Stem Extract, Sodium Metabisulphite, Melaleuca Altermifolia (Tea Tree) Leaf Oil, Butylene Glycol, Vitis Vinifera (Grape) Seed Extract, PVP, Salicylic Acid, Polysorbate80, Volcanic Ash, Phytosphingosine, Sodium Hyaluronate, Phenoxyethanol.

Dr. Belmeur Clarifying Spot Hydrocolloid Band 20 patches (10mm x 12,12mm x 8) x 2
About this product: A hydrocolloid band that helps absorb and protect wound discharge (provides relief to wounds from acne extraction).
Features and Benefits: Hydrogel type that absorbs and protects wound infections. It contains tea tree oil which provides a nice soothing effect. It reduces the redness and size of the pimples quickly. It works as a nice protector for pimples. It stays on for long and doesn't have any side effects.
How to Apply: Apply band over the wounded area for protection. (Do not use lotion or cream). The product will swell and whiten, and then return to its normal state. Remove after a sufficient amount of time. Apply one band per day over the wounded area.
Ingredients: Hydrogenated Hydrocarbon Resin, Sodium Carboxy Methyl Cellulose, Polyisobutylene, Polybutene, Polyurethane, Polyethylene Terephthalate.
More
We usually receive the most current product versions directly from Korea. While we make every effort to update images and provide accurate and up-to-date information, please be aware that manufacturers may occasionally change ingredients without prior notice. If you are seeking a specific product version, we kindly request that you reach out to us for confirmation. Please note that we are not responsible if ingredients on the box differ from the description in the ingredients section.
Effective
I have the occasional pimple and was looking for a good patch. This set is composed of to types of patches. Both works as expected. Effective treatment made simple. I highly recommend and truly love it.
Amazing spot patch. Better than the other patches I've tried. Seller was easy to get in touch with.
Comes in two sizes
Very effective spot treatment. Comes in two sizes which is nice.
I bought these to compare them with the other patches. You get more patches, as well as a mix treatment patches and wound patches. I also like how there are different sizes, so you are really getting it all in this big pouch.
It cures them well
It really works well. For small pimples, it is a perfect product and it cures them well. I am using it for over a month and I am totally satisfied with it. It works slowly for bigger pimples and it needs a little patience. It is a good product to try out. It is an expensive kit but it is totally worth it.