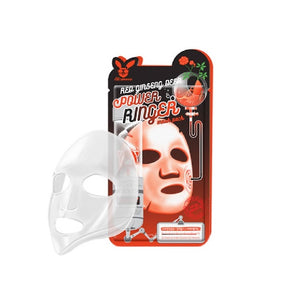 Description
How to Apply
Ingredients
More
Description
Sheet mask with red ginseng extract.  It helps eliminate acne, redness, irritation and other imperfections. The mask quickly improves the condition of the skin. It reduces the appearance of wrinkles, removes swelling, improves complexion, restores smoothness and elasticity. Red ginseng extract, the plant is known for its healing and rejuvenating properties, improves blood circulation, stimulates the synthesis of collagen fibres and slows down age-related changes in the skin. The mask contains extracts of garden purslane, witch hazel of Virginia, soybean, rice, velvet, and other plants. These components saturate the cells with vitamins, inhibit the activity of bacteria, whiten the skin and improve the complexion.
How to Apply
After cleansing and toner, apply the mask on the face properly
Leave on for 15-20 minutes, remove it and pat gently until the remaining essence is fully absorbed.
Ingredients
Water, Glycerin, Dipropylene Glycol, Niacinamide, PEG-60 Hydrogenated Castor Oil, Dimethicone, Sodium Hyaluronate, Vincetoxicum Atratum Extract, Portulaca Oleracea Extract, Hamamelis Virginiana (Witch Hazel) Extract, Red Ginseng Extract, Phellinus Linteus Extract, Monascus/Rice Ferment, Lactobacillus/Soybean Ferment Extract, Phenoxyethanol, Velvet Extract, Ubiquinone, Adenosine, Carbomer, Arginine, Chlorphenesin, Hydroxyethylcellulose, Disodium EDTA, Fragrance.
More
We usually receive the most current product versions directly from Korea. While we make every effort to update images and provide accurate and up-to-date information, please be aware that manufacturers may occasionally change ingredients without prior notice. If you are seeking a specific product version, we kindly request that you reach out to us for confirmation. Please note that we are not responsible if ingredients on the box differ from the description in the ingredients section.